'Alcohol Based' Markers specially designed to color all kinds of sketches. Both fine (1.5mm) and thick (6mm) tips make it easy to paint details as well as fill larger areas. Perfect for degrading. The colors blend seamlessly. It is fast drying. They also stand out for their non-toxic alcohol-based inks which provide a perfectly uniform application.

SPECS
Matt Finish
High opacity
Clean Stroke
Double tip: Thin and Fat
Perfect for Blending (Degrading) between colors
Fast Dry
Wide range of colors
High quality inks
 No toxic
Perfect ergonomics
Do not slide on the table
End cap clip-on

Super permanent solidified paint stick for all types of uses. This product allows you to paint on almost any surface, from any angle. Rust, dust, water … it resists almost everything. It has a simple system to consume all the product by rotating the lower thread in a very comfortable way. It behaves especially well on smooth surfaces, it flows perfectly. It is characterized by its great power to resist external agents, remains for a long time and is very expensive to remove (with alcohol-based solutions it can be removed if the surface is non-porous). Resists extreme temperatures (-15ºC – 190ºC). Suitable surfaces for the application of solid paint can be wood, cloth and canvas, plastic, steel and iron, rubber, cardboard, glass and concrete.

SPECS
Permanent wax
Suitable for any surface
Resists water, dust, etc.
XL size (Length: 110mm – Diameter: 13mm)
Available in 9 colors
Fast dry
Wide range of colors
Perfect ergonomics
Solvent-based refill ink 500ml and satin finish.
This ink is ideal for Vandal actions. It can be used on any surface. It is very fluid which makes it ideal for filling squirters / squeezers. Also compatible with Refillable MARKERS. Very difficult to erase. It perfectly resists weather adversities. It is presented in a metallic container to ensure the perfect conservation of the ink, it is also necessary so that it does not attack the material that contains it.

SPECS
Satin Finish
High opacity
 Ultra Permanent
 Fast Dry
Great adhesion power
Solvent Base
High quality pigments resistant to UV radiation
Weather and weather resistant
Capacity: 500ml
The WATER BASED PAINT H2O is available in 250ml format and 12 COLORS TO CHOOSE. Designed to recharge Squeezers, refillable Markers, etc. It has a perfect cover (high opacity). The drying is very fast and both the adhesion and the UV resistance is very high.
The paint is permanent, it does not smell and it is not only useful to recharge Markers or Squeezers but it can also be used for other techniques focused on the fine arts such as brush applications, etc. Highly recommended for indoor use. The colors can be mixed together. While the paint is wet, the work tools can be easily cleaned with water.
The AKA H2O paint is a versatile product that will allow you to enjoy it in many different ways.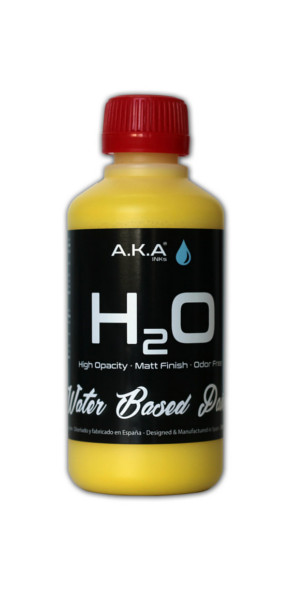 SPECS
Matt finish
High opacity
 It does not smell – Solvent free
Fast dry
Great grip power
Great fluidity
High quality pigments resistant to U.V radiation
 Ideal for indoor use
 12 colors
T-shirts, sweatshirts, casquettes … Tout ce qui concerne les vêtements et accessoires AKA!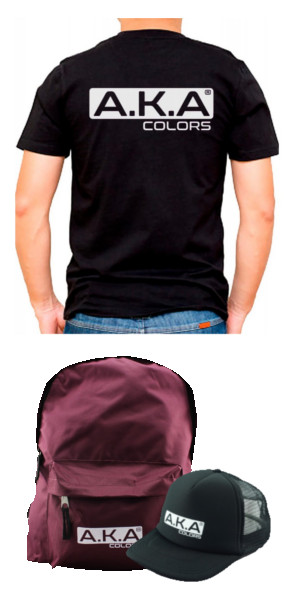 ACCESSOIRES
T-Shirts
Suitable for any surface
Jumpers
Vests
Backpacks
Caps
Bandanas
 Etc.